SEATON ENGINEERING
Your premier engineering design, manufacturer, and supplier of aircraft lighting control products. Our FAA PMA and STC approved landing light controllers and cabin and instrument panel lighting controls provide clean simplified lighting solutions for the experimental, sport and certified aircraft industry.
MaxPulse Landing Light Controller
Bring "Wig-Wag" capability to most aircraft – FAA STC/PMA
Max/MiniDim Instrument Panel Dimmers
Many other applications
FAA STC/PMA
MicroDim Instrument Panel Dimmers
Great for experimental aircraft 
Let our team custom design a product to meet your specs.
Quality Built MaxPulse, MaxDim, MiniDim, MicroDim Products
Designed, fabricated, assembled in the USA and most are FAA STC/PMA approved.
Standard equipment in many OEM applications.
Seaton Engineering supplies FBOs, repair facilities, OEMs, dealers, internet supply companies, avionics facilities and others wanting to provide the latest technology to their customers. Contact us for dealership opportunities.
These units replace devices in a multitude of new and existing aircraft. The MaxDim A-B-C-D-E-F and MaxPulse A-B are fully STC'd and PMA'd, all products are manufactured in the USA by Seaton Engineering in Loon Lake, Washington.
All of the units on this website are RTCA/DO-160E (or later), part 21, EMI Qualified.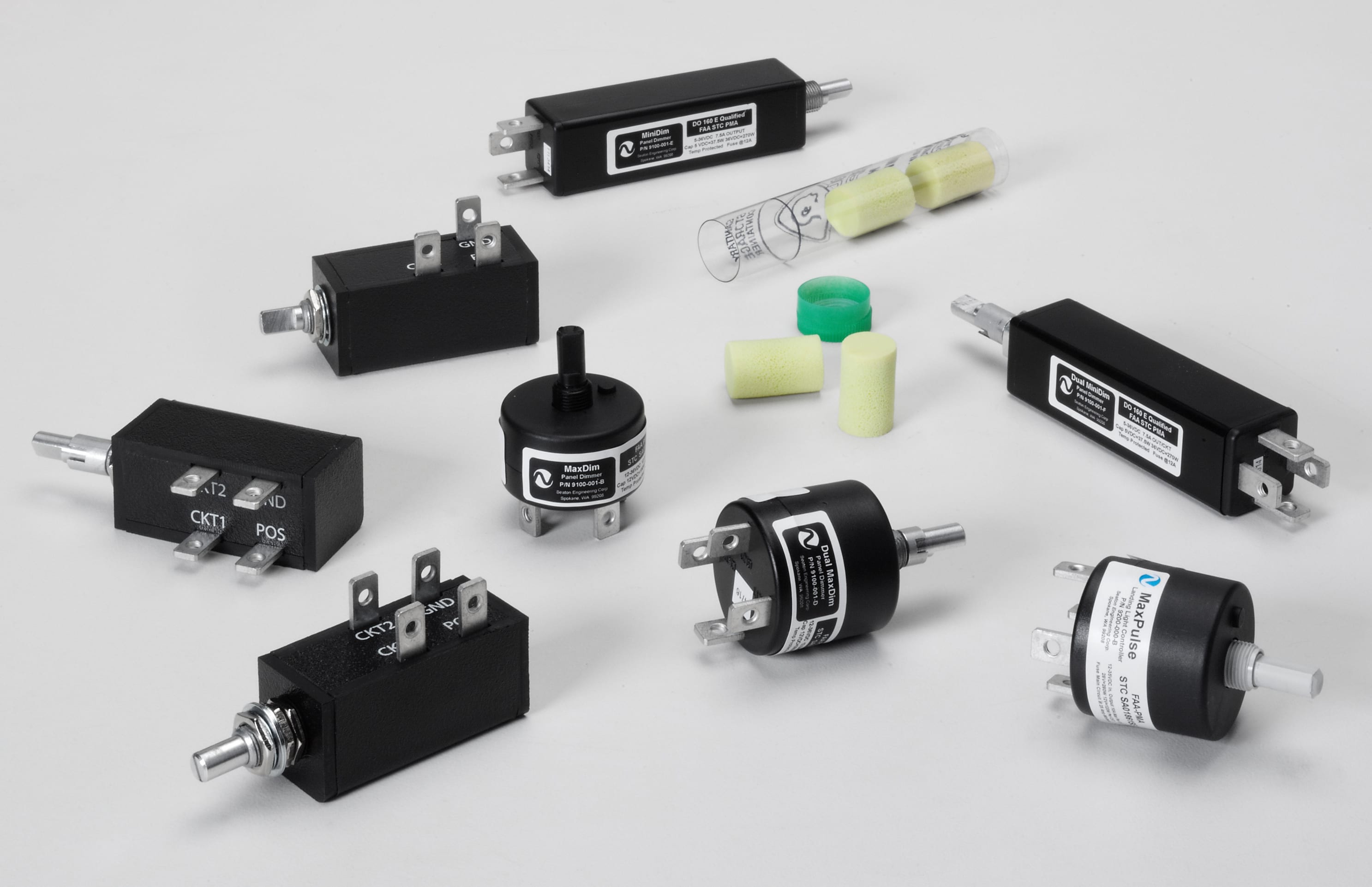 Easy and Quick to Install
Our products have been rigorously tested for quality control and performance with the following features:
Very small profiles
All of the units have passed RTCA/DO-160E part 21 (EMI)
Different wiring options, Spade Connectors or Ring Connectors
Fully self contained
Run absolutely cool
No complicated wiring
One Year Limited Manufacturers Warranty
Tested 4 times in production prior to shipment
No external heat sinks, clacking relays, or other packages requiring additional space and additional wiring
Assembled in the USA by Seaton Engineering
All parts for installation included
We have seen our products used in military vehicles and aircraft including NVG applications, installed in all types of medical transport, used in the civil marine industry, used in submarines, battleships and hovercraft, used in locomotives in the rail industry, and in the trucking industry.
All physical and electrical measurement devices are controlled and monitored with standards through periodic calibration referenced to the National Institute of Standards and Technology.
We take pride in our reputation for innovative design.
Our sales channels are supported by providing adequately stocked quality products at competitive prices. Superior customer service and delivery are maintained through monitored Quality Control Principles with continuous process improvement.
All Seaton Engineering employees and associates are trained in Quality Control Principles and as a team are committed to achieve these goals. We perform these services with honesty and integrity.
Do You Qualify as a Dealer?
Are you a dealer? Let us know!